Car of the Month, August 2000
Car of the Month
August 2000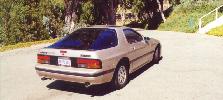 Updates coming... pictures of new paint job.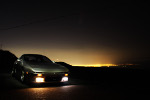 ---
Owner: Rebecca Schubert
Rx7 info: 1988 Rx-7 SE 2+2, Gold
I have been an Rx-7 enthusiast my whole life... well not exactly, since I was 7. My father is the co-founder of the Bay Area Rx-7 Club. I drove my first rotary when I was 16, an RX4 wagon, lowered, sway bars, Holley 550, header with an Rx-7 Prima Flow muffler. I fell in love, and have never owned anything but a rotary since. I have been through a few.
My current '7 which I am most proud of is a Gold '88 SE, with 50,000 original miles on a bone stock car. I had a little accident which allowed me to customize it. Added is a strut bar, a Mariah mod 5 air dam, and Mariah's custom flared fiberglass racing fenders. Still to do is the wheels (Panasports).
Upgrades from '91 TII (courtesy of BackYard Engineering ;-), June 2002:
TII brakes, 5 bolt hubs and springs.
Limited slip diff.
16"x7" Weds wheels.
Racing Beat sway bars.
Racing Beat CAT back.
'91 round tail lights.
Sevenstock 7, People's Choice Awards, Best 2nd Gen Rx-7
All rights reserved on photos © Rebecca Schubert.
This page has been accessed
times.
---
$Date: 2019-05-10 10:56:23 -0700 (Fri, 10 May 2019) $
Mobile
Desktop