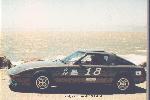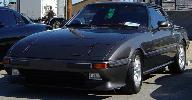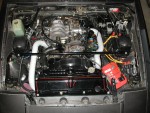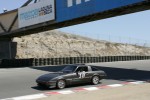 ---
Owner: John Schubert

Rx7 info: 1981 Rx7 GSL, Tornado Silver
Engine:

'91 Turbo II engine with custom front mount intercooler.
California BAR approved.
Aluminum flywheel w/6 puck clutch.

engine swap notes and pictures.

Body:

Elford front spoiler* with integrated PIAA fog/driving lights.
Lighting: Cibie' H4 headlights. LED brake/running/turn lights. Custom taillights

Exhaust:

80mm Racing Beat DP
80mm RB presilencer (track) or Random Technology CATs
3" mandrel pipe to Racing Beat 3rd gen muffler.

Sound bites: Track setup, Borla muffler coldstart and idle. Rev it up...
NOTE: for reference adjust your volume to 101 db on the low idle! Then you will hear 111 db (ouch) during the revs. This is too loud for some race tracks.

Chassis:

Suspension Techniques springs, Konis, urethane bushings on front suspension, adjustable lower control arms.
Panasport 15"x6" with 205/50-15 Bridgestone RE-71R
SS brake lines. Hawk HP+ pads.
D-bar.
Rear end: Miata Torsen with 4.1:1. Moser custom axles. Mazdaspeed urethane bushings on lower links.
Modified TII transmission.

Interior:

Stereo upgrades. Boost, Oil temp, EGT gauges. LED instrument cluster lighting & indicators.
Competition:

SCCA-SFR autocross series (O/SP): 4th '89
NCSCC autocross series (P/S,O/SP): 1st '85, '88, '90; 2nd '89, '91; 3rd '86 team competition: 1st '90, team.net
Duel at DeAnza (autocross): 1st '86, '88, '91, '92; 2nd '87, '89, '90
Drag racing, best showing: 14.040 E.T. @ 101.12 MPH in street trim (turbo 12A)
Top Speed: 142.4 MPH, "space limited".... (turbo 12A)
3 - 1 day "high speed" driving schools at Sears Pt. Raceway
2 day "high speed" driving school at Laguna Seca Raceway in another Rx-7
1 day "high speed" driving school at Laguna Seca Raceway
Sevenstock 7, People's Choice Awards, Best 1st Gen Rx-7
Misc:

Original factory paint, Mazda K8
1 owner.
NOT for sale...
co-founder Bay Area Rx7 Club (1981)
* Front Spoiler by Elford turbo, England. It's no longer available in the US (probably not England either...). Another good looking front end that fits the stock body is made by Mariah.

All rights reserved on photos © John Schubert.

This page has been accessed
times.
---
$Date: 2019-02-11 18:05:55 -0800 (Mon, 11 Feb 2019) $

Desktop

Mobile